Chapter Information
About US
The AIPRCC represents the Appraisal Institute's members of Puerto Rico and the Caribbean including commercial and residential appraisers and industry related professionals. The mission of our chapter is to support and advance the Designated members, Candidates, Practicing Affiliates and Affiliates in a relationship with the market for valuation services. The chapter exists solely for the benefit of all the members.
2021 Chapter Officers
A Team Of Professionals
Esteban Lamadrid, PE, MAI –President     esteban@lagpr.com
Esteban Lamadrid, PE, MAI is a Licensed Professional Industrial Engineer and Designated Member of the Appraisal Institute. He has been involved with the appraisal of complex income-producing properties, both proposed and established, Special Use Commercial Real Estate, business valuations, renewable and waste to energy systems.
Esteban has been appraising Machinery and Equipment; now interested in his ASA designation.
With thirty year of appraisal practice, his goal is to share the same, and promote the AI Puerto Rico and the Caribbean Chapter's ability to provide excellent educational benefits, career resources and peer networking possibilities to practicing and aspiring appraisers.
Alejandro René Pérez Alfonso was born at Evanston, Illinois, and raised in Puerto Rico. He began in the appraisal and consulting business on 1997, in an independent fee appraisal firm established by his father around 43 years ago. He is a seasoned general-certified and designated SRA appraiser who works mostly along the Southwest and Central regions of the island of Puerto Rico with a mostly commercial practice and a small residential practice.  Alejandro is passionate about his family (including his dogs), nature and Puerto Rico. When he's not working, he is doing tourism along the Island, gardening, dancing and as much as possible enjoying the salt life!
«I am really proud of what I do. The real estate appraisal profession has been really important in my life and its time for me to give something back to the profession that has given so much to me and my family as well. As part of the board of directors I seek to assist others in reaching the high standards and excellent work expected from all members of the Appraisal Institute always aiming towards the highest education and professional performance, the key to a successful career.»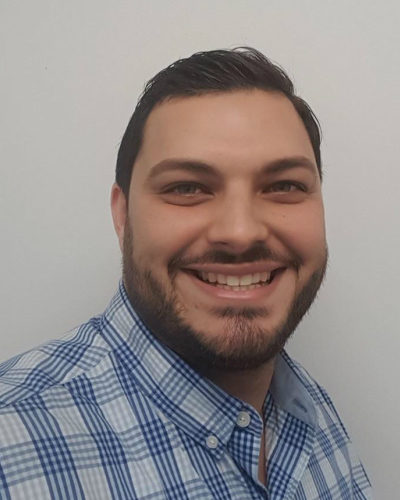 Mr. Ed Daniel Rivera, certified general real estate appraiser. He was raised in a family who is part of the real estate valuation practice, a second-generation appraiser and has specialized in valuations since 2008. His practice is focused, mainly, in commercial and residential valuation. Has been part of the board of directors of the Appraisal Institute of Puerto Rico and Caribbean Chapter since 2016. Nowadays, holds the position as the chapter's secretary and expresses that this position has given him the opportunity to experience a diversified leadership styles, which is a core skill for his professional development.
"My mission and commitment are to help spread even more the high levels of education that the Appraisal Institute provides. Not only related to real estate professionals, but with new prospects."
Born in San Juan, Puerto Rico.  Son of the Medrano-Pagan family comprised of five (5) children (three [3] daughters y two [2] sons).  Graduate from the University of PR (UPR) in 1978 with a Bachelor Degree in Business Administration (Cum-Laude) majors in Marketing Management, Accounting and minor in Computer Sciences.  Licensed Certified Public Accountant (CPA, Lic-1617) in 1983, "Realtor"/ Licensed Real Estate Agent (Lic-6592) in 1994, Certified Real Estate Appraiser, (EPA, Lic-692) in 1996 y "HUD/FHA Rooster Appraiser" (Lic_PRRC-48) in 2000. "SRA & AI-RRS Designations" in 2014 from the Appraisal Institute – Chicago.  See Resume attached.
From 10 to 15 years' experience in Public Accounting as external auditor and few Private Corporation managerial positions as Supervisor, Accounting Manager and Finance Director.  More than 20 years' experience as Managing Appraiser at "Medrano & Associates Services" performing over 20,000 valuation assignments for the PR Mortgage Industry since 1996.  
Member of the PR Board of CPA and the "American Institute of CPA" (since 1982), Member of the San Juan Board of Realtors (since 2000), Member of the Appraisal Institute – Chicago (since 2000) and Member of the PR Board of Certified Real Estate Appraisers (since 2015).     
These working experiences, that I have had along my long professional career as a CPA, Realtor and Appraiser, have teached me how important is to be a responsible professional.  Being a responsible and ethic person is the key for a successful professional along with your personal principles and values. Therefore, my work mission is always to protect the public trust and its general welfare. 
Pedro Campos Saavedra, MAI, – 3rd Year Director / Education Chairman, pcampospur@gmail.com
Pedro has been a member of the Appraisal Institute, and active member of the Puerto Rico and Caribbean Chapter since 1999, where he has occupied multiple leadership rolls including Director, Secretary, Government Relations and Education Chairman.  Pedro has also represented the Chapter on multiple occasions in the Appraisal Institute's Leadership Development and Advisory Council.
"As the current Education Chairman, my goal is to facilitate the best education available to our members and non-members, to help them achieve their educational and professional goals, and to better serve our valuation industry".
José L. Isaac, AI-GRS – 2 year director –  isaacfeyjoo@gmail.com
José L. Isaac, AI-GRS became a licensed appraiser on 2003, when he started working with the Public Building Authority as an appraiser. He worked for eight years, for the agency, doing appraisal reviews and appraisal of government properties. For the last nine years he has worked mostly appraisal reviews for the bank industry, currently working for Banco Santander de Puerto Rico as an appraisal reviewer.
Víctor Rafael Mesa Matos, M. Sc., SRA- Ex Presidente 2020 – vmesagro@hotmail.com
Title of Agronomist in 1975, Loyola Polytechnic Institute, Agricultural Engineer, mention in Agricultural Economics, National University Pedro Henríquez Ureña in 1981, and Master's in Science in Agricultural Economics at the University Campus of Mayagüez, University of Puerto Rico in May 1988. Estimation of Production costs and bricks for micro planning in grain and vegetable productions in the rural arid zone of YSURA settlement, Azua valley, Dominican Republic. I have carried out studies to estimate econometric models (fertilizer demand function, and production function) in agricultural enterprises companies in settlements of agricultural projects in the Dominican Republic, and Puerto Rico.
Postgraduate degree in Integrated Regional Rural Planning and Development, sponsored by the Israeli government, participating as part of the multidisciplinary team in the diagnosis and preparation of the Integrated Regional Development Plan in the Chuquisaca Region, Sucre, Republic of Bolivia. Administrator of private farms, and Agronomist by profession, serving for about 15 years in the agricultural extension service, which includes about 4 years at the Center for Research Applied to arid zones, Ministry of Agriculture in the Dominican Republic. Professor of different subjects in the areas of agriculture and economics at both national and foreign universities, especially on issues related to appraisals of the inherent rights to own a property. Among them, the course of Laws and Regulations that govern the profession of Professional Real Estate Evaluator in Puerto Rico; for around 15 years at the "Colegio de Mayagüez".
«Designated Member of the Appraisal Institute», works as an appraiser since 2004, Professional Real Estate Appraiser in the Dominican Republic (ITADO), and in the Commonwealth of Puerto Rico, Residential and / or General Certification is held. In addition, General Certification in the State of Georgia, USA. I have learned that, although the mastery of the procedures and the theory of valuation is important, no less important is the knowledge of the current law that shelters us, and the vocation of service to the community …
01.About the Appraisal Institute
The Appraisal Institute is a global professional association of real estate appraisers, with more than 18,000 professionals in nearly 50 countries throughout the world. Its mission is to advance professionalism and ethics, global standards, methodologies, and practices through the professional development of property economics worldwide.
02.
AI Career Center
The Appraisal Institute's Career Center provides AI Designated members, Candidates for Designation, Practicing Affiliates and Affiliates with: FREE and confidential resume posting; job search control, including automatic email notification of new jobs that match their criteria; easy job application; and saved jobs capability.
03.

YOUR CAREER

For more than 85 years, real property appraisers and their clients take Appraisal Institute courses and seminars because the Appraisal Institute offers quality education. Thoroughly researched and developed by practicing appraisers who are subject matter experts, Appraisal Institute course or seminar materials are peer-reviewed, professionally designed and edited, taught by seasoned practicing appraisers, and offered throughout the United States through multiple delivery platforms from classroom to online to webinars.
Role of the Appraisal Institute
For more than 85 years, the Appraisal Institute has been the world's leading organization of professional real estate appraisers. The organization has led the way in fostering and promoting the highest standards of practice through its designation programs, peer review process, education, research and publishing endeavors.
WANT TO BECOME A MEMBER OF APPRAISAL INSTITUTE?
Get In Touch
Appraisal Institute's members of Puerto Rico and the Caribbean
500 Calle Ing. Antolin Nín Martínez
education.aiprc@gmail.com
TERMS AND CONDITION |  PRIVACY POLICES | CONTACT |
The Appraisal Institute advocates equal opportunity and nondiscrimination in the appraisal profession and conducts its activities in accordance with federal, state and local laws. Copyright © 2022 Appraisal Institute. All rights reserved.   
 Website design and development by FAST  DIGITAL MEDIA